Raw nature will fuel your soul, we'll fuel your body. At Nam Pien Yorla Pa, expect every dish to be packed with taste and quality ingredients in every bite. Are you a hungry adventurer looking to discover the vibrantly flavored layers of the Lao cuisine? Maybe you've escaped to the wild for simplicity and crave some familiar international comfort food? Or you just want to dig into a barbecue feast for that rustic experience? Choose your gastronomic journey, whichever suits your off-the-grid fantasy.
Take a seat on our restaurant terrace. Feel the breeze on your skin. Breathe in the fresh air. Savor the great outdoors on your palate. The al fresco dining experience in the jungle's embrace is a feast for the senses. Taste the flavors multiply by a thousand, whether in the conviviality of delicious sunshine, in the poetic ambiance of a luscious downpour from under the roofed patio, or in the liberating night air under the stars.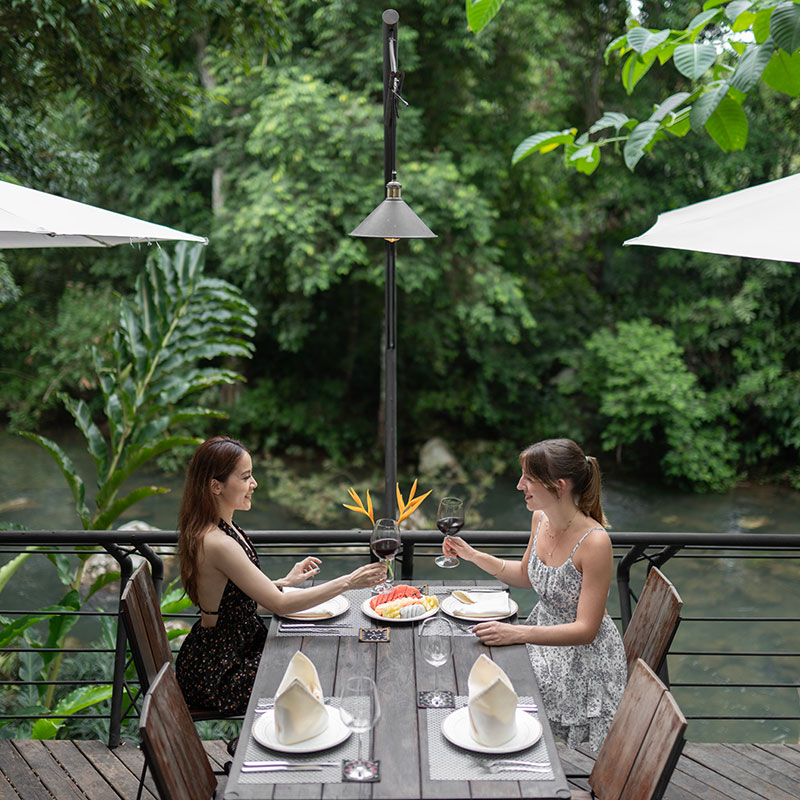 A glass house hidden amidst the tropical vegetation. Where you're nestled in paradise, but paradise is also found in every pint of cool boutique beer or every sip of wine. Where the cocktails are as vibrant as the scenery, and the spirits in your glass replenish your spirits. Keep the drinks flowing like the river that snakes through the resort. Swallow the breathtaking views from the rustic bar or step out onto the outdoor terrace for a swig of fresh air. Your watering hole in the sweltering rainforest – where the wild things are, in every sense!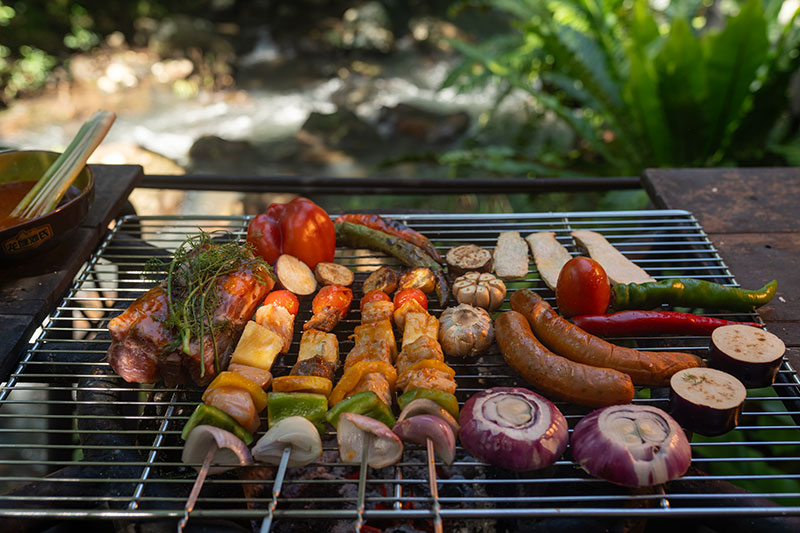 Your stomach is growling from that first mouthwatering whiff. You see the assortment of meat, seafood and veggies sizzling on the grill. Oh boy, you can already tell it's going to be lip-smackingly yummy! What's more nature getaway than a barbecue? Chow down at the restaurant terrace, or go for the full VIP treatment by having a BBQ butler come set up your barbecue station on your private balcony.